It almost sounds too good to be true. ValueLink™ helps hospitals contain distribution costs, streamline supply processes and reduce supply inventory by distributing product in the most logical (low) unit of measure (LUM) possible — organized by point of use.
It's a key component of what we call the dynamic hospital supply chain. And it can change the way you think about inventory and logistics management.
With ValueLink™ you process, handle, store and pay for only the supplies you need, when you need them. By reducing non-value-added time and cost, ValueLink™ customers see operating margin improvements and cost reduction in inventory spend by an average of 30 percent or more.
---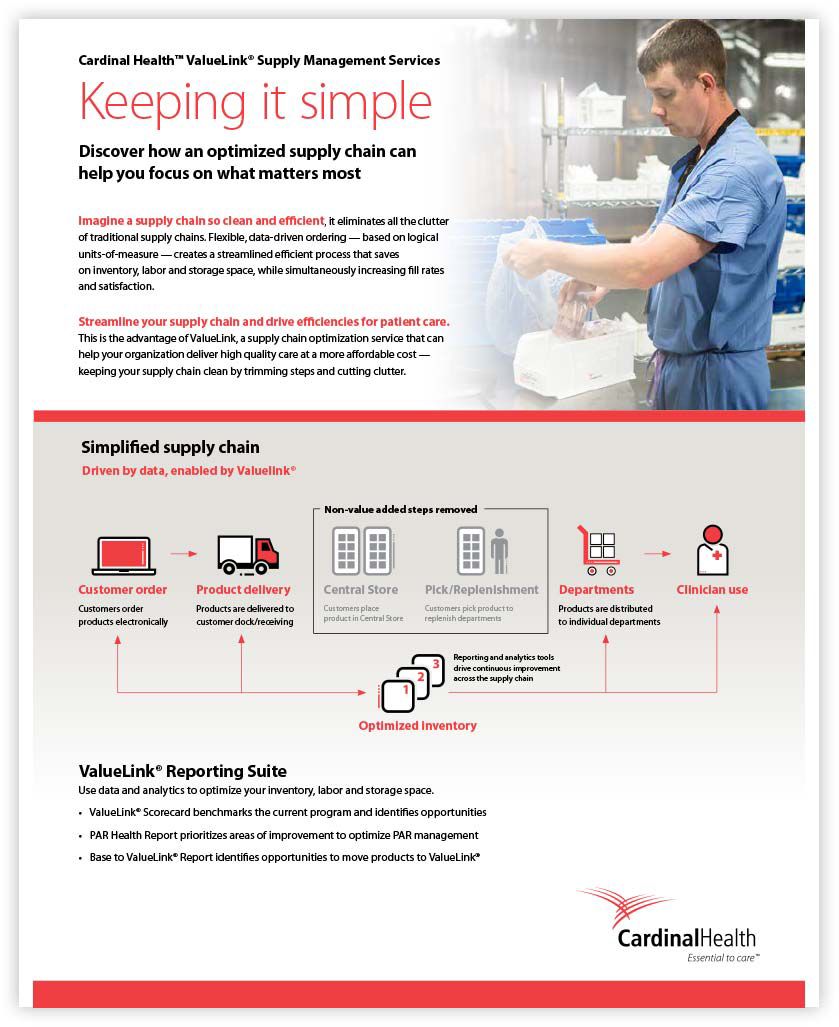 Simplify your supply chain with ValueLink™
Discover how an optimized supply chain can help you focus on what matters most.
---
How ValueLink™ works
Traditionally, supplies flow in bulk from the distributor to the hospital's central store, where they're picked and dispersed by hospital staff to the point of care.
ValueLink™ eliminates two of those steps. Product bypasses the central store, so there's no need to stock or pick products for distribution. Instead, ValueLink™ configures your deliveries in totes based on specific demand and delivers them organized by department or points of care. The result is fewer touch points, lower storage needs, reduced overstocks and expired products and better use of staff time.
Logical units of measure
We're changing the standard definition of low unit of measure (LUM) to logical unit of measure because it represents a more relevant way of thinking and a greater benefit for our customers. With ValueLink™, distribution is smarter and more responsive to immediate needs, with less waste and handling. We've improved just in time (JIT) processes as a direct response to the need to drive cost and inefficiencies out of the supply chain, while increasing service and data for better planning. Instead of thinking in terms of the lowest unit of measure available, we think of it as the right unit of measure, based on actual usage. The result: more efficient picks and lower total line fees.
Proven success
We're focused on continuous improvement following Lean Six Sigma management practices. The result: engagement with some of the top hospitals around the United States. Cardinal Health, with its extensive network of distribution centers and delivery fleets, can provide a high level of expertise, responsive local customer service and reliability. Cardinal Health has had a top-five supply chain excellence ranking for 10 consecutive years. We earned a spot in Gartner's Masters category in 2018, and ValueLink™ is an important part of our offering.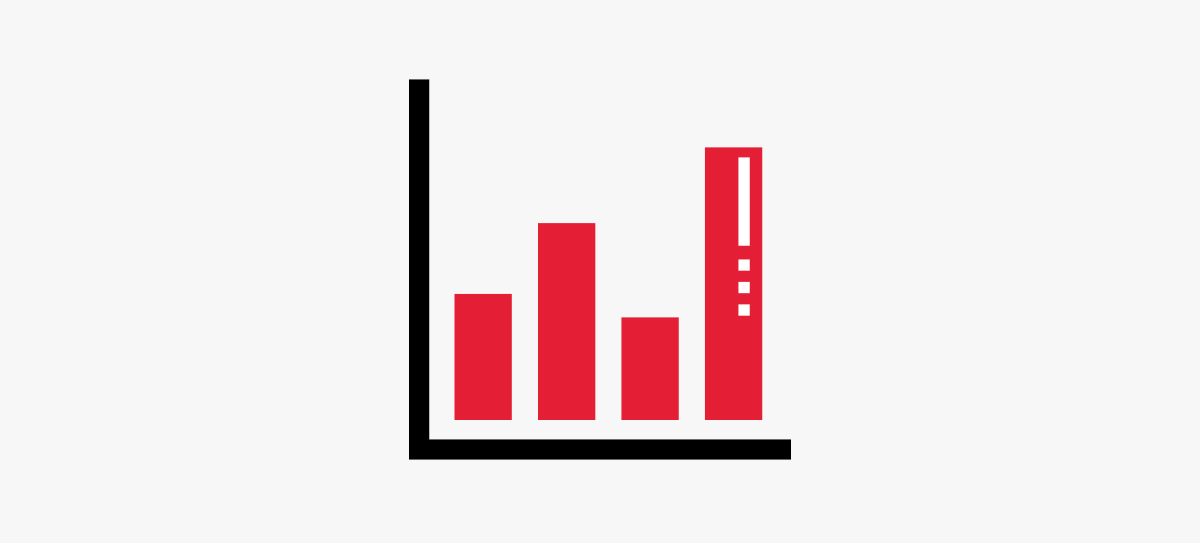 Empowering supply chain excellence
Support data-driven decisions at your facility with the ValueLink™ Reporting Suite.
ValueLink™ improves upon traditional supply chain logistics.
Supply reduction and savings
Inventory Reduction – ValueLink™ lowers the amount of inventory maintained in your hospital warehouse and decreases the time/activity spent on receipt, put-away, pick and inventory of on-hand stock.

Lower Inventory Costs - Eliminating waste reduces inventory costs, on hand inventory levels, associated holding costs, handling costs, distribution fees, transportation costs, storage costs, line fees, replenishment and receiving costs.

Product Standardization - By utilizing LUM a standard item master file will be developed which will help promote compliance by driving to the standard list of stocked items.  There are many advantages to a standard item master file which include: 

Consistency of product quality throughout the network
Cost savings with the suppliers by leveraging economies of scale
Reducing the cycle time of an implementation of a new hospital to the LUM network
Support in meeting contact compliance goals 
Reduction in supplier variation 
Maximize space within hospitals and distribution centers
Labor savings
Labor Reduction - Delivery of supplies to their points of use will reduce labor required to make deliveries and lower labor costs by 25-30%.
Reallocation of Labor - FTEs can shift attention to higher priorities that result in reducing clinician time spent managing supplies resulting in an increase in clinician time caring for patients.
Storage Space Savings
Storage Space Reduction - Supply space in a clinical area is a valuable resource to most hospitals, and it is a constant challenge for materials management and clinicians alike to make everything fit.  ValueLink™ delivers products straight to their point of use eliminating stops at the receiving/loading dock and central store.   LUM and PAR optimization decreases storage space needed in each department.

Space Reallocation – A reduction in inventory reduces storage space requirements and space can be reallocated into revenue producing areas.